Te Tumu would like to congratulate its four postgraduate students who will be graduating this December.
Roma-Kiritahi Simmons-Donaldson (Ngāti Porou, Taranaki, Ngāti Tūwharetoa) is graduating with a BA(Hons) in Māori Studies.  Her dissertation, "Walking in two worlds – Te reo Māori in urban New Zealand" was supervised by Dr Karyn Paringatai.
Abstract: The aim of this dissertation is to examine ways in which te reo Māori (the Māori language) can exist in urban New Zealand. Specifically, it will outline a history of te reo Māori, before looking at different ways in which language can be acquired and developed in an urban environment. It will then analyse ways in which te reo Māori has enabled Māori people to negotiate their place in urban New Zealand, in the absence of those environmental stimuli that traditionally inform and enhance a Māori identity and worldview. Central to this dissertation is the concept of intergenerational language transmission. As such, the experiences of my grandmother, mother, and myself will be presented throughout this dissertation to provide context, and to illustrate the interaction between urban migration, language, mechanisms of language acquisition and development, and identity, in a way that contextualises and enriches the literature.
Future plans: "I have just accepted an offer to undertake PhD study at the University of Otago, which will look to fill a gap in the conversation surrounding bilingualism and intergenerational language transmission, and explore in depth the journey of language transmission between second language speaking parents and their first language speaking children. It is my hope that this thesis will help to increase our collective understanding of the intersection of these two stark pathways of language acquisition, and help whānau who are looking to do the same."  Dr Karyn Paringatai and Professor Poia Rewi will supervise Roma's doctoral thesis.
Pia Cristóbal Kahn undertook the thesis pathway for her Master of Indigenous Studies degree.  Her thesis, "Sacred Katuiran: Decolonial Sensibility in the Katipunan Papers / An 'indigenist hermeneutic' of 19th century Tagalog revolutionary texts" was supervised by Professor Poia Rewi.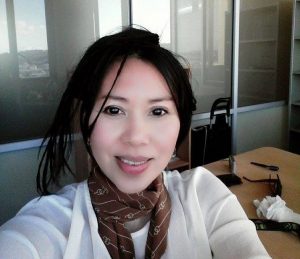 Abstract: Indigenous meanings and renderings tend to be forgotten and buried, and even erased, by non-indigenist interpretations and translations. This is a case study of an 'indigenist hermeneutic' approach to a re-translation of the "Kartilya" and other selected texts authored by members of the Katipunan, a 19th century revolutionary movement against Spanish colonial rule in the Philippines. The Tagalog word katuiran, which is often translated to 'reason', in support of a prevailing narrative in Philippine historiography that credits the European Enlightenment for primary Katipunan ideas, becomes central to the research as intertextual analyses unearth a variety of its forgotten meanings and usages, and concomitant mistranslations. A comparative conceptual analysis of katuiran and the Māori word tikanga opens up a viable hypothesis for an expanded indigenous meaning of katuiran, that necessitates the re-translation of many passages and other principle ideas of the Katipunan. This re-translation results in a re-narration that depicts an indigenous 19th- century 'decolonial' Tagalog movement that sought to delink from European constructs epistemically, ethically and politically; and thus, a re-narration that offers a challenge to a 'European Enlightenment narrative' for the Katipunan revolution.
Future plans: "I plan to continue my research on the doctoral level, with a focus on Tagalog cultural conceptualisations, and drawing from the fields of indigenous studies, cultural linguistics, memory studies and oral history."
Te Tumu also has two staff members who are graduating with their PhDs.
Dr Tangiwai Rewi (Waikato, Ngaati Tiipaa, Ngaati Amaru, Ngaati Tahinga) has completed a doctorate, "Examining traditional Maaori knowledge frameworks and intergenerational knowledge transmission. "Titiro, Whakarongo" – he huarahi ako noo ngaa raa o nehe." Professor Michael Reilly was the primary supervisor, with Professor Helen May as co-supervisor until her retirement in Dec 2016, and Dr Michelle Schaaf as an Advisor.
Ariaa: Abstract: This thesis investigates the way knowledge is transmitted inter-generationally, and the teaching and learning methods (or pedagogies) used to do this. The transmission referred to here relates to knowledge about practices associated with the Kiingitanga 'kingship movement' of which the Waikato iwi 'tribe' have long been the kaitiaki 'guardians'. The pouwhirinaki 'participants' are from the Ngaati Tiipaa and Ngaati Amaru hapuu 'sub tribes' from the Port Waikato area; however, participants also came from other hapuu and iwi within the Waikato-Tainui rohe 'region'.
I set out to analyse whether there is any correlation between the traditional Maaori knowledge frameworks of old being utilised in the way we learn the roles associated with three domains on the marae 'communal gathering place' during three key Kiingitanga events. This thesis explores how learning was undertaken in ngaa whare waananga tawhito 'traditional houses of learning' before documenting my participants' narratives about how they learned their roles. It concludes with my analysis of these findings and offers some recommendations, based on what the participants said, about cultural revitalisation looking forward.
Future Plans: After an enforced leave period from roles and responsibilities in order to complete the thesis, Tangiwai is now relishing the challenge of resuming these expectations. From January 2019 she takes on the 0.5 Academic Dean Maaori position in the Division of Humanities. This is in addition to being the new Co-chair of Poutama Maaori, the Maaori academic staff network across the Otago University campuses which she recently took up in September 2018.
On the research front she is busy implementing one of the translational priorities of her PhD research, Tuupuna Times, which encourages whaanau to record the life stories /narratives of their ruuruhi (elderly women) and koroheke (elderly men). While she has continued to teach her Maaori education papers of MAOR 213, 313 and 413, she also expects to conduct comparative research with two other New Zealand iwi and two other indigenous tribes from Northern America related to her PhD study during her pending Research and Study Leave forecast for the back end of 2020 / start of 2021.
Dr Erica Newman is also graduating, having completed a PhD on Adoption in Fiji.  Associate Professors Jenny Bryant-Tokalau and Jacqui Leckie supervised Erica's thesis, assisted by the Advisory Committee of Professor Michael Reilly and Dr Michaelle Schaaf.
Abstract: The arrival of Europeans in Fiji, from the late 1700s, impacted the established social structures of the indigenous communities, removing what were considered inappropriate social behaviours and introducing concepts and values which altered the societal relationships and status of iTaukei (indigenous Fijians). This included the introduction of colonialist terms and practices of 'orphan' and 'adoption'. Scholars such as Vern Carroll, Ivan Brady and Ward Goodenough have questioned whether the use of these terms were appropriate when referring to the traditional practices of child circulation amongst kin within Oceania. Yet the iTaukei population came to use these terms, practices and their meanings, although not entirely in the same context as the European.
This thesis investigates the colonialist perspective of Fiji's traditional child circulation and introduced European practices of child care, guardianship, adoption and orphanage institutions. The research covers a number of key topics that are relevant for this thesis. It begins with an understanding of Fijian kinship structure prior to, and just after, the arrival of the first Europeans. The research then explores colonial interventions of guardianship (the first being a consequence of the introduced Indian Indentured Labour Scheme). Missionaries brought with them the institution of orphanages and a history of these are explored (today orphanages are now known as Children's Homes). The Child Welfare Department in Fiji is responsible for the placement of vulnerable children into safe homes. As they are an important part of guardianship and adoption today this thesis provides a history of how this scheme developed into a government department. In 1945 Fiji enacted the Adoption of Infants Act as a formal process for all children of Fiji, regardless of ethnicity, and this research follows the path of creation. Although the Adoption of Infants Act caters for all ethnicities of Fiji, 'informal adoption' or child circulation continued and continues to be practised by iTaukei. During the colonial period the colonial government accepted this customary practice as an acceptable form of child care.
This thesis provides a history of adoption and guardianship practices in Fiji during the colonial period of 1874 to 1970.
Future Plans: Erica will continue to work at Te Tumu, teaching and researching.