This has been a great year for research in Te Tumu. Every November Te Pūtea Rangahau a Marsden (Marsden Fund), run by the Royal Society Te Apārangi, announces its forthcoming research grants.  Winning a grant is a two stage process, with applicants having to get past a preliminary round, then develop their applications for the second round; they have about a 10% chance of success in the Humanities and Social Sciences panels.  There are six successful applications within the Division of Humanities, three of which have a Te Tumu connection.
Dr Karyn Paringatai's project "E kore au e ngaro! The enduring legacy of whakapapa" ($823,000, Social Sciences panel) looks at how the knowledge of whakapapa can impact on health, with particular reference to Māori affected by the CDH1 cancer-causing gene.  Click here for more information. Professor Parry Guilford, Director of Otago's Centre for Translational Cancer Research, is an associate investigator on the project.
Associate Professor Lachy Paterson is a principal investigator alongside Associate Professor Angela Wanhalla (History Department) on "Te Hau Kāinga: Histories and Legacies of the Māori Home Front, 1939-1945" ($746,000, Social Sciences panel), exploring the lived experiences of Māori who remained in New Zealand during the Second World War.  Click here for more information.  Although the project begins next year, one of our undergraduate students, Haeata Watson, has already started a project looking at Ngāti Kahungunu experiences, funded through a Ngā Pae o te Māramatanga Summer Internship.
Both Karyn and Lachy are based in Te Tumu's Māori Studies programme, occasionally teaching into the Indigenous Development programme.  Karyn also coordinates the Master of Indigenous Studies programme.
Professor Merata Kawharu, who until recently held an adjunct position within Te Tumu but is now based at the Centre for Sustainability, was also successful.  Her project, "A question of identity: how connected are Māori youth to ancestral marae, and does it matter?" ($605,000, Humanities panel) will investigate the relationships that young Māori have with their marae.  Click here to find out more.  Merata with be working with associate investigators, Dr Stephen McTaggart (University of Auckland), former Dean of Te Tumu, Professor Paul Tapsell (now at the University of Melbourne) and Dr Krushil Watene (Massey University).
Special thanks to Marjoleine Righarts, Research and Enterprise's Research Advisor for Humanities who helped immensely with all the applications.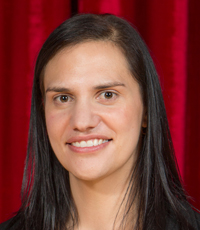 Dr Karyn Paringatai (Ngāti Porou) is perhaps best known for her innovative award-winning teaching pedagogy – teaching in the dark.  But on 10 November, Karyn gave a talk for TEDxDunedin on a much more personal issue, on how learning her whakapapa saved her life.  TEDx talks are about "Ideas Worth Spreading".
Click here to watch the video of Karyn's talk.
Karyn teaches Māori language and performing arts in Te Tumu.
Te Tumu had a number of its students honoured at the university's recent Graduation, including several doing post-graduate research.
Samantha Jackson, "Ko Te Houhanga a Rongo marae tōku tūrangawaewae: In search of a philosophical standing place for indigenous development", (MA Indigenous Development).
Supervisors: Professor Grant Gillett, Associate Professor Merata Kawharu, Dr. Paerau Warbrick
Abstract: Dominant paradigms of development assume a linear progression from one established point to another. These paradigms do not take into account the complexity of indigenous voice, spirit and ways of being-in-the-world, leaving indigenous peoples without a meaningful place to stand. To approach the question of indigenous development in such a straight forward manner is a methodological error which stands to obscure meaningful indigenous development and silence the indigenous spirit.
In order to appropriately investigate the question of indigenous development, I argue we must awaken ourselves to our assumptions which form the background of how we view and understand ourselves, the world and others. I draw on Martin Heidegger's interrogation of Cartesian thought to provide a space through which indigenous development can be meaningfully approached from a tangata whenua (Māori, people of the land) philosophical perspective.
I utilise the traditions and teachings of Reverend Māori Marsden to posit a meaningful model of indigenous development must be rooted in Te Ao Mārama traditions (Māori worldview), a woven universe of connection between self, ancestors, universe and gods. This idea is mooted in an international indigenous context, before returning to the traditions pertaining to Te Houhanga a Rongo marae (Māori cultural complex), my own tūrangawaewae (place to stand). I argue marae are a manifestation of Te Ao Mārama worldview and therefore an appropriate site to investigate indigenous development. I utilise whakapapa (genealogy) and kōrero pūrākau (stories of origin) as important mechanisms through which one can come to understand and organise the relationship between a person, their world and their gods. Maintaining an intimate relationship within the woven universe validates a person's tūrangawaewae giving them the 'sureness of touch' of a person firmly rooted in belonging with unlimited potential for human development.
Nicole McCrossin, "Intention and Implementation: Piecing Together Provisions for Māori in the Resource Management Act 1991″, (MA, Indigenous Development)
Supervisors: Dr Janet Stephenson and Dr Jenny Bryant-Tokalau
Abstract: Today, it is widely recognised that indigenous people have a valuable contribution to make to the development and practice of resource management. New Zealand legislation recognises in part the importance of Māori participation; however, there appears to be a considerable gap between the recognition of these rights and their effective and widespread implementation at ground level. This study explores the intentions behind, and the implementation of Section 33 transfers of power and Sections 36B-E joint management agreements, under the Resource Management Act 1991, which support Māori participation in resource management decision-making. These provide for the devolution of power from local authorities to iwi authorities and the establishment of agreements to co-manage resources with iwi. A nationwide survey of local authorities' use of the provisions demonstrated that they had been virtually unused. The majority of local authorities do not have any form of co-management agreements with Māori, and those that do have quite constrained arrangements which are designed to enhance consultation, rather than shared decision-making. The results of the survey are contrasted to findings from a series of semi-structured interviews with key informants involved in the crafting of the RMA, which examines the intentions behind the inclusion of these mechanisms in the legislation. The concept of institutional bricolage is used to help explain their creation and implementation, and the subsequent negotiation of the mechanisms and their alternatives by councils. The survey and interview results revealed that an intentional institutional bricolage approach was frequently employed by councils and iwi to negotiate co-management arrangements, but was not used in the crafting of the RMA co-management provisions. Instead, the provisions were a result of unintentional institutional bricolage, drawing on a range of structural and social influences.