Post researched and written by Amanda Mills, Curator Music and Audiovisual Collections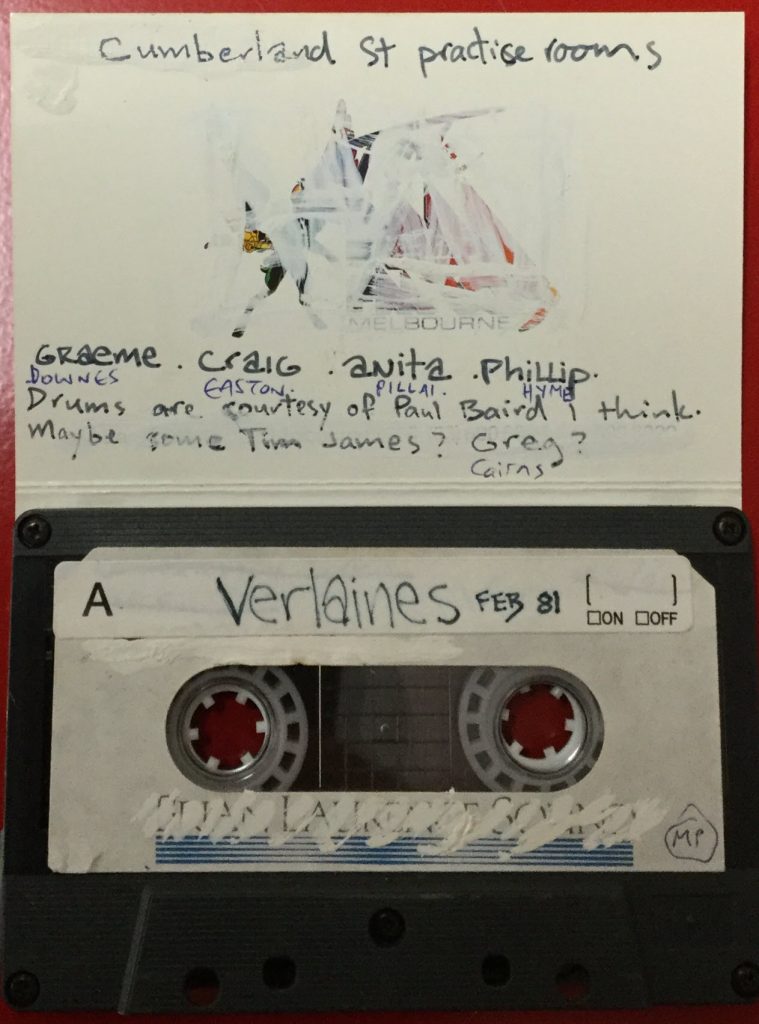 The Verlaines have been a keystone band in the Dunedin music scene since their inception in 1980, and fully-fledged beginnings in 1981, when they were found regularly playing gigs in Dunedin's Empire Tavern's third floor concert venue. The band has undergone a number of lineup changes over nearly four decades, but the members pivot around songwriter and vocalist/guitarist Dr Graeme Downes, who has been the constant band member since the beginning. The first 15 years of The Verlaines in particular was a productive time for the band, when their sound was developing, and they released some of their most well-known recordings: the songs Death and the Maiden, Crisis after Crisis, and Pyromaniac and albums 'Hallelujah all the way home', 'Bird Dog', 'Some Disenchanted Evening', and 'Ready to Fly'.
This particularly fertile time is documented in a collection of 33 performances on cassette tapes that Graeme Downes has deposited with Hocken's music collections. The performances date back to 1981 with a cassette titled 'Live at Duke Street' and continue throughout the 1980s, capturing the band in the first decade of their career in exotic locales such as CBGB's Nightclub in New York, and (arguably) less glamorous settings like Wagga Wagga in New South Wales. This collection of performances documents the band as they develop as performers, and Downes, as he develops as a vocalist and songwriter, imbuing his songs with increasingly sophisticated and complex structures and 'musical tricks' – no doubt reflecting his own study in classical music at the University of Otago. The live performances also capture the changing line-ups of The Verlaines, whose sound modifies slightly with each iteration of the band. The earliest cassettes document the initial line-ups (possibly with Downes, Anita Pillai on keys, Craig Easton on guitars and vocals, Philip Higham on bass, and either Paul Baird, Tim James, or Greg Cairns on drums). The band give it their all, and finding their way around Downes' material which includes later Verlaines classics such as Slow Sad Love Song (the first song Downes ever wrote in 1980 as a response to a friend's passing), and a faithful cover of Velvet Underground's Femme Fatale – one of the interesting oddities on the 1981 'Rehersals' tape. By 1985-7, the line-up is one of the most well-known (Downes, Jane Dodd on bass, and Robbie Yeats on drums), and they have just released 'Hallelujah all the way home', and 'Bird Dog' to excellent press. They are hitting their stride in the live setting, and it shows.
 The Verlaines, It was Raining. Live at The Playroom, Christchurch, May 1987.
There are many highlights in this collection. One favourite performance is the band's spirited take of Pyromaniac at Reckless Records in Chicago (date not recorded, but likely in the early 1990s). There is a punkish spontaneity to this entire show, and Downes' vocals are spot-on, as is the band's performance.) Another is possibly the only recorded instance of Graeme Downes performing with Straitjacket Fits, singing She Speeds at Chippendale House in July 1987 (Shayne Carter returns the favour by performing  The Verlaines' You Cheat Yourself of Everything that Moves) before the Verlaines set for the evening. This is a particularly emotive performance, as it was Downes' wedding reception! Yet another highlight is a Christmas 1990 show at the Savoy in Dunedin, where the show ends with a dynamic version of Lying in State, which was a popular show closer for the band. By this time the line-up had changed again: Jane Dodd and Robbie Yeats had departed, with replacements Steve Cournane (drums), and Mike Stoodley (bass) taking over their roles in the band – bringing a slightly different feel to the music. The collection stops around 1993, at a point when The Verlaines (now Downes, Darren Steadman on drums, Paul Winders on guitar and backing vocals, and Mike Stoodley on bass) are no longer with Flying Nun, but have signed to Slash Records, an LA-based independent record label. One of the later recordings of the band is an interview with KALX Radio in Berkeley (part of the University of California), where they discuss their (then) new album, 'Way out Where', and the band's history so far. The interviewer discusses Downes' songwriting, and compares his writing style to Cole Porter or George Gershwin, while stating that The Verlaines 'play like a punk band most of the time,' a statement that still applies to the band today.
The physical cassettes are still in good condition for items of between 30 and 40 years old, although the materials are ageing. They are kept in a temperature-controlled vault at Hocken Collections to mitigate any potential issues with magnetic formats (such as sticky shed syndrome). All of these recordings have been digitised to WAV files for access, as the age and fragility of the cassette tapes means further playback could damage them. For any access to this content, please contact the Music and Audiovisual Curator at Hocken Collections for further information.