The title of this album (and band name) will be very familiar… but this is not the David Bowie creation! The Ziggy Stardust Band is the brainchild of Errol Barker (former cycle racing sensation) of Christchurch, and he recorded a number of albums under this guise. In the mid-1980s, Barker arrived at the doors of Nightshift Studios, and asked to record some music there. The studio's engineer Arnold van Bussell agreed, and Barker returned with his drum machine, and a pre-recorded cassette of his guitar playing. After recording his vocal tracks, and some studio trickery (including what van Bussell called outrageous effects), the product was completed.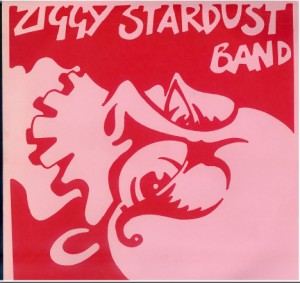 And what does the Ziggy Stardust band album sound like? With song titles like Monstrocities, Human Boy and Schizophrenic Hotel, you might expect a sci-fi theme to be running through the record. To my surprise, the album has a Gothic Rock sound, with the strong, clinical backbeat of a drum machine. Barker's free-form, reverbed guitar sounds ricochet off the space within the songs, and often have a siren-like effect – possibly due to van Bussell's treatments. The vocals are half-spoken and mannered, more in the vein of Nick Cave than David Bowie, and this is used to great effect on Schizophrenic Hotel, which reworks the lyrics to Pink Floyd's Another Brick in the Wall. Most interesting are the instrumental tracks, which are soundscapes that focus on individual sounds rather than melodic hooks.
There is very little information on Barker and his musical creations, and after recording as the Ziggy Stardust band he dropped off the musical radar. According to van Bussel, Errol Barker still lives in Christchurch, and is still making interesting guitar sounds.
Thanks to Ian Chapman and Arnold van Bussel for information.
Blog post prepared by Amanda Mills, Liaison Librarian, Music and Audio-Visual