Post cooked up by David Murray, Archivist
In our last 'Stirring up the Stacks' post, my colleague Kari laid down a challenge: find old recipes in the collections, try them out, and inflict them on fellow staff members for their verdict.
The recipe I found comes not from a publication or manuscript, but from a glass plate negative (reproduced above), noticed when rehousing records of the University of Otago's former Home Science School. It dates from the 1930s. Four instructors in uniform stand in front of a group of fifteen women. These women don't appear to be students, and possibly the class was one of the demonstrations given through the Home Science Extension Bureau, or one of the 'refresher' courses offered to former students.
Behind the instructors, written in chalk on the blackboard, are five recipes. One of the great thing about glass plates is the level of detail that can often be found in them – you can really zoom in! Richard, our reprographics wizard, scanned the plate and was able to pull up the recipes with some clarity. The titles were clearly visible: vanilla ice cream, coffee mousse, orange water ice, pineapple mousse, and peach parfait. Most of the text for the last two recipes is readable, partially obscured by an instructor staring down the camera.
Choosing the parfait, I thought I might have to fill in the missing parts of the recipe, but after a fair bit of hunting I fortunately found a beautifully handwritten copy in the first-year practical workbook of Rae Vernon (1915-2001). Rae was a Home Science student from 1934, and later joined the staff herself. On the same page is a coffee mousse recipe that also appears on the blackboard:
Mashed peaches 1 cup
Sugar 1 cup
Water ⅓ cup
Egg whites 2
Juice of 1 orange
Cream 1 cup
Almond essence ¼ tsp
Method: Boil sugar and water to 238˚F or until it threads and pour gently into the stiffly beaten egg whites, whipping constantly. Combine peaches and orange juice. Beat in the white mixture. Stir briskly until cool and then fold in whipped cream and almond ess. Pour into a mould cover with waxed paper and press on the lid. Pack in two parts of ice and 1 of salt for 4 hrs. If canned peaches used the amount of sugar should be reduced to ¾ cup.
My prior knowledge of frozen parfaits was somewhere between non-existent and negligible, but this is apparently a fairly conventional recipe, except it only uses the egg whites and not the yolks. The most unusual ingredient is the almond essence, and I was not entirely convinced it would go with peaches, but looked forward to finding out.
The cooking process was fairly straightforward. I did use tinned peaches, and so used less sugar as directed. I wasn't quite sure how mashed they should be, but erred on the side of a smoother consistency. The trickiest bit for me, not having a thermometer, was boiling the sugar and water to the correct 'threading' stage. To add to the fun I found a vintage (though not 1930s) mould. Unwilling to experiment with packing in ice (apologies to those wanting closer authenticity), I covered the finished mixture tightly in its mould and put it in the freezer overnight.
Turning the parfait out of its mould was a bit tricky, but dipping it in a bath of warm water did the trick. I tarted it up with some more peaches and a sprig of mint and hoped it would pass muster.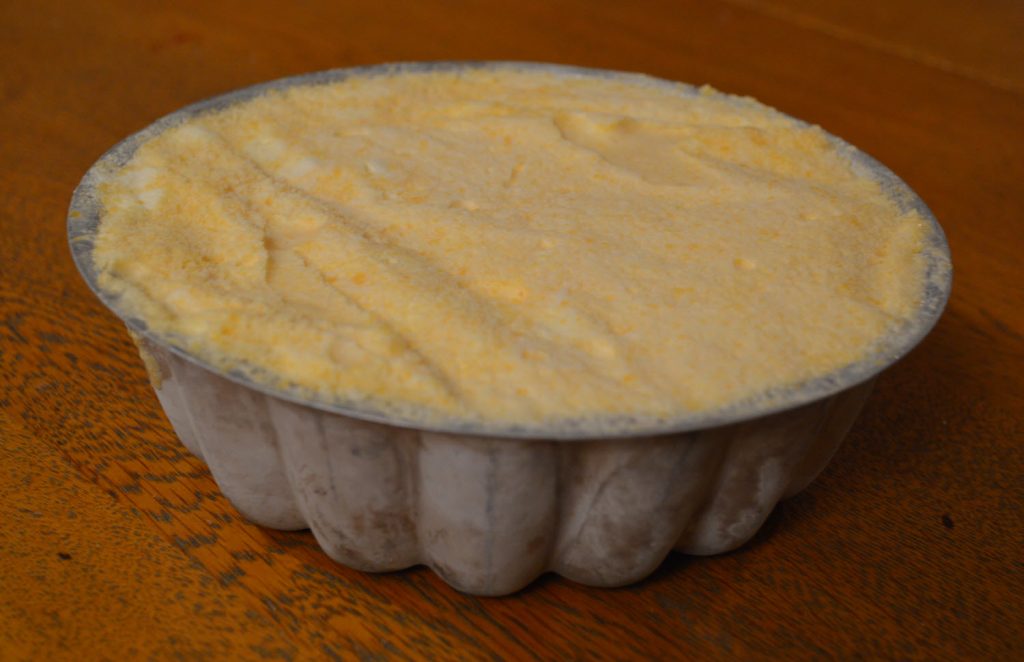 Reaction in the Hocken staff room was favourable, a common theme being pleasant surprise about the peach and almond flavour combination. Some comments:
"Proper grandma food"
"Delicate and dreamy"
"If was a synaesthete I would say it tastes like a floral dress"
"Love the almond flavour"
"I enjoyed the flavour combination"
"Very sweet, but also quite light"
"I was a little apprehensive re tinned peaches but very pleasantly surprised how nice it tasted. The almond flavour was a surprise, but subtle"
 "Would be a lovely dessert to cleanse the palate"
Overall, it turned out better than I expected, and I would make it again. It was fun to bring to life the obscure detail of an image in the collections.
Image references:
Glass plate negative showing cookery class. University of Otago School of Consumer and Applied Sciences records. Hocken Collections – Uare Taoka o Hākena. MS-1517-034-005.

Page from Rae Vernon's Foods 1 practical workbook. Association of the Home Science Alumnae of New Zealand records. Hocken Collections – Uare Taoka o Hākena. MS-1516/023.