Post researched and written by Eilish McHugh-Smith, Collections Assistant – Publications
Welcome back to the Book Review Corner of the Hocken Blog! Today we delve into the world of photography with a review of Self-Portrait by Marti Friedlander in conjunction with Hugo Manson. 
The first thing that attracted me to Self-Portrait was its physicality. A beautifully bound hard back, with high-quality leaves containing vivid imagery and an easy on the eye font, all wrapped up in a simple yet alluring dust jacket. Self-Portrait would not be out of place on a coffee table, yet it is a book of substance, that one could easily get lost in for hours on end. It will come as no surprise that this book was shortlisted for the PANZ Book Design Awards HarperCollins Publishers Award for Best Cover in 2014. [1]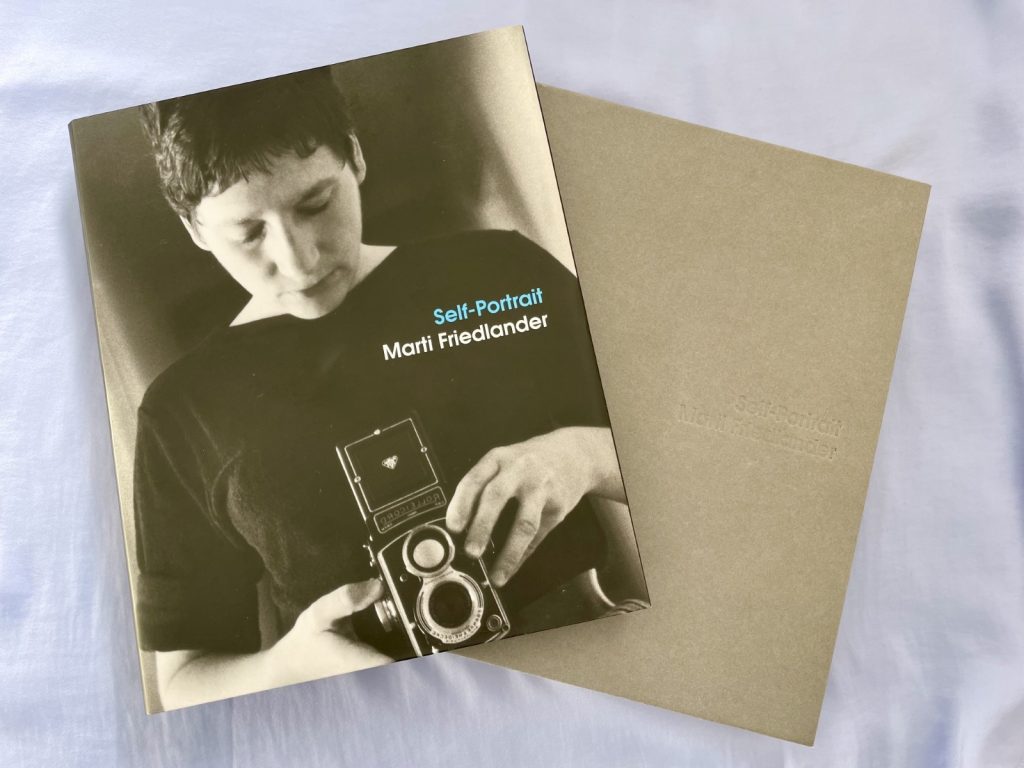 A biography of the highly acclaimed New Zealand documentary photographer, Marti Friedlander, Self-Portrait is framed around numerous self-selected images, with an interview by Hugo Manson helping form the text. However, the interview has been cleverly framed to feel as though Marti is conversationally telling her story. Without the acknowledgement of Hugo in the afterword, one could easily be mistaken for thinking Self-Portrait is a solo venture.  
Self-Portrait begins with Marti detailing the childhood and young adulthood which led her to photography. Born to Jewish refugees in London and ending up in orphanages from the age of three, it is incredible to believe that the sickly child who at eleven years old weighed only three stone (19 kg) and stood only three foot (91 cm) tall, went on to become one the greats of New Zealand photography. Throughout this section Marti weaves images of her own childhood and those she has taken of other children, with commentary of her early years and childhood more generally. She also addresses the influence and impact that being Jewish has had on her life and identity. If not for someone suggesting she study photography during an interview for a scholarship to the Bloomsbury Technical School for Women, Marti would never have become a photographer, as she initially wanted to pursue a career in dress designing.  
Fast forward through another scholarship to further her studies at the Camberwell School of Arts and Crafts and beginning her career developing images for photographers Douglas Glass and Gordon Crocker, Marti fell in love with her husband Gerrard Friedlander, a Jewish refugee who fled Nazi Germany with his family and settled in New Zealand. After travelling through Europe together they settled in Auckland, where Gerrard worked as a dentist, and Marti assisted as a dental nurse, before returning to photography. 
Subsequently, Marti explores different projects, themes and events that shaped her career through her photographs. Each chapter is focused around a core area: "Other Couples," "New Zealand," "Parihaka," "Moko," "Politics and Personalities," "Writers and Artists" and "Protest." Beautiful black and white images of kuia with their moko kauae, images of her friends and some familiar faces like John Key and Rita Angus, along with some iconic New Zealand images grace the pages. Marti analyses some of the visual elements of each image but provides context about the subject, situation and her perception of it that cannot be seen within the photograph. Against the backdrop of Marti's life and through her insight, readers view the images in a new light, with far greater consideration for the finer details, the craft that has gone into creating such expressive and meaningful images and the fresh perspective Marti bought to her work as someone seeing New Zealand for the first time. 
The book concludes with Marti reflecting on her life and old age, providing wisdom and advice to live by. Most poignantly she emphasises the need to live in the moment:   
When you begin it [life or a new adventure], you have no idea the direction it will take. You can't imagine the things that might occur during the course of it. And it's better that you can't. [2]    
Overall, Self-Portrait is a versatile book capable of engaging a wide audience; this book is as much about people, relationships, interactions and life as it is photography. It is an easy, yet substantive read that would pair perfectly with a nice cup of coffee and a seat in a sunny spot on a Sunday morning.  
Self-Portrait is available to read in library here at the Hocken Collections and for take home use at many public libraries throughout New Zealand. For anyone wanting to view more photography by Marti Friedlander or learn more about her, The Hocken Collections holds several of her works and publications containing her works, including:  
From our Published Collection: (links supplied will take you to the catalogue entry) 
Maurice Shadbolt, The Shell guide to New Zealand, revised edition (Christchurch: Whitcombe and Tombs, 1973). [Specifically see pages 54, 55, 63, 77, 8-, 101, 102, 144, 190, 222, 232, 240, 279 and 305 for Marti's images.] 
Leonard Bell, Marti Friedlander, (Auckland: Auckland University Press, 2009).  
Michael King and Marti Friedlander, Moko: Māori tattooing in the 20th century, (Wellington: Alister Taylor, 1972).  [Further editions of this were published in 1992 and 2008 by David Bateman publishing, Auckland]. 
Marti Friedlander and James McNeish, Larks in paradise: New Zealand portraits, (Auckland: Collins, 1974). 
Marti Friedlander, and Jim and Mary Barr,  Contemporary New Zealand Painters, (Martinborough, New Zealand; A Taylor, 1980).
Dick Scott and Marti Friedlander, Pioneers of New Zealand wine, (Auckland: Reed, 2002).  
From our Archives and Photographs Collections: (links supplied will take you to the catalogue entry) 
Friedlander, Marti : Two prints (1979-2001). Two gold-toned gelatine silver prints of Ralph Hotere. Hocken Collections Uare Taoka o Hākena, P2010-013. 
'Jim Allen Torso brass and bronze…photo by Marty Friedlander' (1959). Hocken Collections Uare Taoka o Hākena, MS-0996-002/475/054.
'John Kingston, standing figure…photo by Marty Friendlander' (1958). Hocken Collections Uare Taoka o Hākena, MS-0996-002/475/047.
'M[aurice] Gee, [photo by M[arty] Friedlander' (n.d.). Hocken Collections Uare Taoka o Hākena, MS-0996-002/475/050.
Friedlander, Marti : Portrait of Gordon H. Brown. Hocken Collections Uare Taoka o Hākena, P2017-028. 
Te Papa Tongarewa has also digitised numerous photographs by Marti Friedlander, including those taken for Moko: Māori Tattooing in the 20th Century. They are available to view through their Collections Online website here.

References
[1] 'HarperCollins Publishers Award for Best Cover 2014 Highly Commended', PANZ Book Design Awards; www.bookdesignawards.co.nz/, accessed 7 April 2022. 
[2] Friedlander, Marti, with Hugo Manson, Self-portrait, (Auckland, New Zealand: Auckland University Press, 2013), pp.250.