Post written by General Assistant, Gini Jory
Welcome to a new segment for the Hocken blog, where our staff review books we hold in our collections. Whether these be novels, poetry, non-fiction, books helpful for research or genealogy- hopefully we will cover it all in our new Book Review Corner!
Today we start with a series fairly new to the collection- the first two books of the Locked Tomb series by New Zealand author Tamsyn Muir. Gideon the Ninth (2019) and Harrow the Ninth (2020) are Muir's first novels, and have both been met with critical acclaim- Gideon having won the 2020 Locus award for best first novel and the 2020 Crawford award, as well as being nominated for the Nebula award for best novel and the Hugo award for best novel. Harrow is a finalist for the 2021 Hugo award this year.
I read these two books over the most recent lockdown, and they have quickly become some of my favourites. I had read Gideon the Ninth previously- as soon as I saw the review tagged on the front cover in the bookstore "Lesbian necromancers explore a haunted gothic palace in space!" I had to buy it- and I was super excited to read the sequel. If you enjoy science fiction, fantasy, horror, queer fiction, and elegant prose peppered with ancient memes, then these might be next on your TBR list.
So, what is it all about?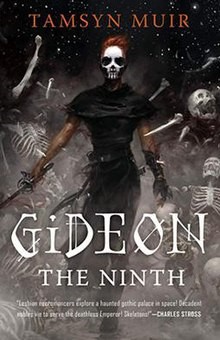 "Teacher said the facility was chocka with ghosts and you might die?"
"Correct."
"Surprise, my tenebrous overlord!" said Gideon. "Ghosts and you might die is my middle name."
Gideon the Ninth takes place in a far off (and possibly our dark future) universe ruled with the magical energy of necromancy. Thousands of years ago the new God (the King Undying, the Prince of Death!) resurrected the universe, which now consists of nine houses, each with different necromantic specialties. Here we find Gideon Nav of the Ninth House (is it Pluto? I like to think so), who is planning her escape- again. The Ninth House is different from the others, as its sole purpose is to protect the locked tomb that lies at its centre, housing an ancient and powerful enemy of God. But around this tomb has grown a sort of cult of worship, and the Ninth House is one of nuns and servants devoted to the locked tomb. There are hardly any actual people left on the Ninth, with the majority of their population being made from necromantic skeletons- of those passed and the newly regenerated. It is from this dark underground society Gideon hopes to escape to join the Cohort, the deep space army of this galaxy. But her plans are foiled by the Reverend Daughter Harrowhark Nonagesimus, the best necromancer of the Ninth, with the ability to grow entire skeletons out of the smallest bone fragments.
It turns out that God has put out the call for all the houses to send their best necromancers, along with their cavaliers (a champion fighter) to undertake the mission of becoming new Lyctors, who are basically undying warrior saints, the right hand men and women of god. It's a pretty big deal- there haven't been new Lyctors since the original eight created when the universe was first resurrected. Harrowhark is set on going (for mysterious reasons I won't spoil here) but she needs a cavalier and unfortunately, Gideon is the best swordsman she has. It's unfortunate, because these girls have basically sworn to hate each other for all eternity and have been fighting since their infancy. Nevertheless, Harrowhark is all set to offer Gideon the one thing she wants- freedom- if she will answer the call and go to the First House with her to undertake this challenge. And if you didn't know yet, that's not how this story is going to turn out.
When they arrive at Canaan House they are plunged into a series of tests, mysteries, and monsters. With an ensemble of untrustworthy characters, Harrowhark and Gideon must learn to trust each other and work together to uncover the secret to Lyctorhood, and to survive whatever is murdering their fellow necromancers in the ancient laboratories below Canaan House. There's sword fighting, goth skull makeup, lots of bones, a fair amount of sass and sarcasm and an extremely good murder-mystery all wrapped up in one spooky and very cool magic system.
Gideon the Ninth is unlike anything I've read before- it's dark, funny, high fantasy prose, low brow culture, all at the same time. The necromantic magic system is mildly gruesome and extremely intriguing, and is explained throughout the different tests that take place through the book- Gideon is a big beefcake with only a basic understanding of necromancy, so we learn as Harrow painstakingly explains it to her. Gideon and Harrow are excellent complex characters, extremely relatable in their own ways. They explore their own trauma and grief, and I found the way they handled these, while very different, extremely realistic and uncomfortably relatable. This isn't a happy queer romance, and the way Muir writes this tragedy wrenches your heartstrings all the way through. She somehow perfectly balances the dark gothic themes with Gideon's sassy over-it jokes-a-plenty thoughts and narration, making for an altogether different style that I think will sit well with anyone that enjoys a blending of the modern and the classic (in reference and in humour).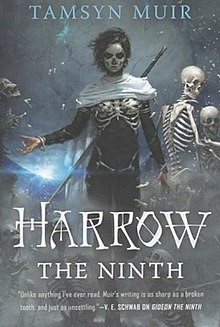 "I could protect you, if you'd only ask me to," said Ianthe the First.
A tepid trickle of sweat ran down your ribs.
"I would rather have my tendons peeled from my body, one by one, and flossed to shreds over my broken bones," you said.
"I would rather be flayed alive and wrapped in salt. I would rather have my own digestive acid dripped into my eyes."
"So what I'm hearing is … maybe," said Ianthe. "Help me out here. Don't be coy."
Harrow the Ninth is a completely different beast all together. Taking place not long after Gideon finishes, we have a Harrow-centric story as she starts her journey to lyctordom. But something is wrong. This is not the Harrowhark we know- she is, as she freely admits, insane. Something went wrong when she completed her transition to lyctor, and Harrow the first (as all Lyctors are of the first house) is not complete. But she must still train and travel with God himself and the few remaining original Lyctors because the universe is at stake. A resurrection beast (the soul of a dead planet) is coming to seek revenge on those who killed it (God) and it will consume any planet in its wake to absorb its energy and make itself more powerful. If they do not stop it, it will eventually consume all nine houses. Harrow is absolutely not up to this task. Not only can she not magically heal as other lyctors can, she has retained no knowledge of the fighting skills of her cavalier. And more concerning for us, dear readers, is this: Harrow has no memory of Gideon, and believes her cavalier was another ninth named Ortus Nigenad. Confused yet? So was I! But don't worry, it all makes sense at the end.
This book was definitely a bit more jarring of a read for me. Half of it is told in second person, which I always find more difficult to get into. I think this is definitely done with intent though- it seems to be either a Harrow who is so traumatised and disassociated after her lyctorial transformation that she cannot relate to herself so personally, or an absent Gideon narrating Harrow's actions for her (I've seen solid arguments for both, though I originally read it as Gideon narrating to Harrow). The other half of the book is a third person alternative-universe retelling of the events of Gideon at Canaan House, with Ortus as an insane Harrow's cavalier, a different kind of monster hunting them that they are told about from the get-go, and characters dying in the opposite order to the actual events of the first book. These two styles and two timelines- the current and the AU past- are interfiled throughout the book, leading to a culmination and explanation of the alternative timelines existence during the final confrontation with the resurrection beast.
This book has a very different tone to the first as well- without Gideon's sarcastic inner-monologue and cringey jokes, everything is a bit more solemn. While Harrow can be funny, its more because she's being rude than actually cracking a joke. To alleviate what at times could otherwise be a depressing story with its heavy themes of trauma, grief, and mental illness, Muir has brought in a lot more cultural references made by other characters- especially the other lyctors who have ~ancient cultural knowledge~. That's right, it's meme time. These references have convinced me that this is a future universe of our own timeline, and this is what has survived of our pre-resurrection culture. Like quoting Latin or traditional proverbs today, in the future let them quote memes.
She references Shakespeare as well though, but if you were on the internet in the late 2000s/early 2010s (2012 tumblr, anyone?) then this specific humour might just tickle you. I absolutely hated myself for knowing some of these references. I did start to tally how many I got as I came across them but I definitely missed some; here is a handy summary  for those interested (spoilers abound!)- it counts around 40, which is a meme or other reference approximately every 12 pages. Beautiful.
Overall, Harrow the Ninth was definitely a much more confusing read than Gideon. It's the kind of book that sucks you in while you're reading, but when you take a break you have to ask yourself if you actually know what is happening. The ending is still confusing me. It's great getting to see a more vulnerable and even naïve side to Harrow in this one, and to get an exploration of mental illness in science fiction/fantasy feels pretty fresh. If you're not a fan of second person narration, this might not be the book for you, but if you enjoy solving a mystery with very little to go on in the way of clues, you'll probably love it. And not to worry, there's still plenty of bones, sword fighting, and flirting.
Even though Harrow the Ninth was a bit of a confusing read, I still loved both of these books and would absolutely recommend them to anyone who enjoys science fiction and fantasy. I'm really looking forward to the rest of this series- it was originally a trilogy but will now have a fourth book, announced earlier this year. Nona the Ninth will precede the previously announced final volume Alecto the Ninth, and is set to be published in 2022- not too long a wait if you start reading soon! I can't wait to see what happens next for Harrow and Gideon, and I hope you enjoy their story too, if you come along for the ride.
References:
Muir, Tamsyn. 2019. Gideon the Ninth. New York: Tom Doherty Associates.
Muir, Tamsyn. 2020. Harrow the Ninth. New York: Tom Doherty Associates.