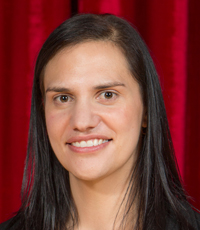 Dr Karyn Paringatai (Ngāti Porou) is perhaps best known for her innovative award-winning teaching pedagogy – teaching in the dark.  But on 10 November, Karyn gave a talk for TEDxDunedin on a much more personal issue, on how learning her whakapapa saved her life.  TEDx talks are about "Ideas Worth Spreading".
Click here to watch the video of Karyn's talk.
Karyn teaches Māori language and performing arts in Te Tumu.
Lachy Paterson "Ārihi Te Nahu & the Te Waka Maori Libel Case, 1877."
Te Tumu Seminar Series, University of Otago, 20 August 2014.
Short Abstract: In 1876 a letter from Ārihi Te Nahu and several others was published in Te Waka Maori o Niu Tirani, the government's Māori-language newspaper concerning the wealthy Hawkes Bay runholder, Henry Russell. Russell sued the newspaper for libel, but the case was informed by dodgy Māori land purchases, race relations, and squabbling within the Pākehā political elite. This presentation explores how the libel case came about, and its ramifications. 
A Te Tumu Seminar by Megan Pōtiki, 16 July 2014.
"Killing Demons" is the title of a detailed account of tapu clearing activities that occurred at Ōtākou in 1865.  The diary extract was written by H.K. Taiaroa.  This account is an incredible example of a collision of fundamentally different religious beliefs.  Christianity and Christian prayer meets one of the significant Māori demi gods.