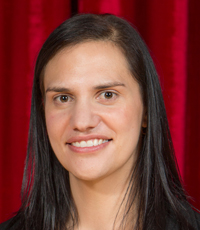 Dr Karyn Paringatai (Ngāti Porou) is perhaps best known for her innovative award-winning teaching pedagogy – teaching in the dark.  But on 10 November, Karyn gave a talk for TEDxDunedin on a much more personal issue, on how learning her whakapapa saved her life.  TEDx talks are about "Ideas Worth Spreading".
Click here to watch the video of Karyn's talk.
Karyn teaches Māori language and performing arts in Te Tumu.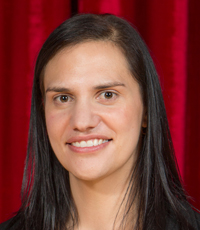 Te Tumu lecturer, Dr Karyn Paringatai, will be giving a keynote address at the Tuia Te Ako hui to be held at at Te Kete Ika, Lincoln University, Lincoln, Canterbury, 8 -10 July 2015. This hui will bring together the diverse Māori tertiary whānau to discuss, debate and challenge current issues relating to Māori success in tertiary education.  Karyn, who won the Prime Minister's Supreme Teaching Award last year, will be talking about her innovative teaching methods of "teaching in the dark".
Click here for biographies of the Keynote Speakers.
On Monday night, the Vice-Chancellor celebrated Te Tumu staff member, Dr Karyn Paringatai's success, with an event attended by many people from within the university, including Te Tumu staff and students.    See the Otago Bulletin story here.
Karyn won New Zealand's top tertiary teaching award recently in Wellington, the Prime Minister's Supreme Award for Tertiary Teaching Excellence, based on utilising the pre-contact Māori pedagogy of teaching in complete darkness, which has proved to be outstandingly successful in her performing arts paper, MAOR108 Waiata: Te Tīmatanga. Listen to the Radio NZ interview and Dunedin Television item in which Karyn explains her teaching practice.
Karyn has undertaken significant research to ensure that her teaching in the dark, and has just published on this 'A Return to the "Dark Ages"' in the journal Akoranga 10 (2014).
Just this week Karyn also employed the same methods in a guest lecture for the 900 students of MAOR102: Māori Society, showing that this pedagogy can be applied to more than just performing arts. She is planning to continue to use and develop "teaching in the dark" and publish more on this research.