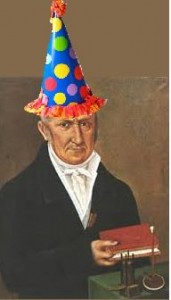 Happy Birthday Alessandro Volta!! Who the heck was he you ask?  Well, the clue is in the name. The unit for electric potential, electric potential difference and emf are all Volts which comes from Volta. Volta made the Voltaic pile which in an improved form is known today as the battery!! Watch this cool movie from some lads at MIT to find out more about how he made this discovery.
Once you've seen the video, look online for some pictures of the modern battery which, on the inside, all look much the same as the voltaic pile.
Finally, You can make your own voltaic pile at home using some copper/zinc coins alternated with some paper towel soaked in vinegar or lemon juice. You will need to use non NZ coins or old coins though as the current 10 cent piece is copper and steel! Also give the coins a sand to expose the zinc insides to the weak acid. Attaching your pile of 7 or so coins to an LED should bring forth light!! Of course you can always go the other route and get yourself a handy potato clock – same principle!