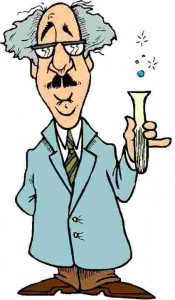 Do a google image search for Scientist and you get a lot of images that look like this guy in the picture. Although I was somewhat heartnened to see that some were women, by far the vast majority were men and most were white. Somewhat foolishly, I then google image searched Physicist and it was white males as far as the eye could see. I'm not sure why I didn't see that one coming.
The first day of class in my Year 12 Physics class every year, I always get the students to draw a Physicist. Because I am in a girls' school and 3/4 of the Science department are female, you'd expect to see lots of women in the mix, but year after year I get pictures like the one on the left. We then go through the exercise of talking about Physicists who are not stereotypical in an attempt to get them to see that Physicists are real people and that anyone, including them, can be one.
I recently ran across this http://lookslikescience.tumblr.com/ and had to share it. Allie Wilkinson, an American journalist, solicits pictures and short bios from anyone doing Science who wants to submit. The result is a collection of people of all ages, ethnicities and genders doing Science but also dancing, skating, running, being human.
Definitely going to show this one to my classes and hopefully it will help them see Science not as some unreachable thing but something that is accessible to people just like them.