Ben Goldacre is a doctor, academic, campaigner and writer whose work focuses on uses and misuses of science and statistics by journalists, politicians, drug companies and alternative therapists.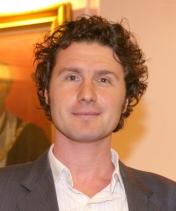 His first book Bad Science reached #1 in the UK non-fiction charts and has sold over half a million copies worldwide. His second book Bad Pharma discusses problems in medicine, focusing on missing trials, badly designed research, and biased dissemination of evidence. He wrote the Bad Science column for a decade in the UK Guardian newspaper, and has written for the Times, the Telegraph, the Mail, the New York Times, the BMJ, and more, alongside presenting documentaries for the BBC.
 From:  http://www.badscience.net/about-dr-ben-goldacre/
Check out his  TED talk from 2011- Battling Bad Science.
http://www.ted.com/talks/ben_goldacre_battling_bad_science
His topic aside note how by simply  talking about what he knows, driven by the passion and enthusiasm he has for his topic,  he has  no need for speech notes and rote learning of his speech