One thing that never ceases to amaze me in my job is the sense of loyalty and pride that the University of Otago imparts on alumni.  International students who have studied at Otago and have integrated into the culture and immersed themselves in all the opportunities have an incredible passion for this university at the bottom of the world.  A passion that continues long after they have left us.
An email sent to our department was forwarded my way last week from a student who graduated with a BSc (Bachelor of Science) in Chemistry in 2012.  From my first glance it was clear that this student wanted to share her story, so I got in touch with Nicole Bravo Castro (nee Wurster) to find out what she had to say about her experiences at Otago.
Plans change
Nicole Wurster (pictured above) had travelled to NZ from her home in Germany as a high school exchange student.  She never had any intention of staying beyond that time, but plans do change….
"I felt inspired by everyone applying for university and was immediately drawn to the University of Otago –  having been to Dunedin previously on a summer vacation I guess I had already fallen in love with New Zealand's southern beauty.  Back then, I remember strolling around campus and dreaming about studying at Otago.  I decided to stay for the duration of my entire undergraduate degree."
Why Otago?
Like many other international students who choose to study here our worldwide reputation and cutting edge research is attractive.  Also, another point that is often mentioned is the welcoming and warm nature of our staff and students, and Dunedin as a whole, Nicole felt immediately at home.  But another reason is the flexibility of our programmes – Otago aims to turn out well rounded graduates who have a broader subject knowledge and skill set than their chosen degree may imply:
"Choosing courses at Otago is quite flexible, I could individually select and combine my courses to plan my degree step by step.  I absolutely loved this option as it helped me throughout my studies to develop my strengths – the system allowed me to take a couple of non-scientific subjects in order to give me a broader general knowledge."
How did you find the learning/teaching environment at Otago?
"I loved it and haven't come across the same dynamics in any other tertiary educational institution I know.  Otago's chemistry department put a great focus on teamwork and offered countless opportunities to develop interpersonal skills.  Otago is very modern in both its facilities and its spirit and I developed some core writing skills which I value up to this day.  Lecturers were friendly and felt very authentic, which made every trip to university enjoyable – even the early morning lectures!  The feeling of not being just one of many, but someone individual with something valuable to offer is something I have frequently missed in European universities."
What about the student life/culture?
As we have mentioned before the saying 'one size does not fit all' is very applicable.  If we are going to be authentic the fact is not every single student that comes to us loves their time here.  But one theme that does come through after all our discussions with international students is that keeping an open mind will allow you to enjoy the culture and the range of experiences more.  "During my entire time as an international student I have felt fully included by my peers and completely immersed into the Otago culture.  I always kept an open mind and am still thrilled about the genuine friendliness of people in Dunedin and their laid back attitude towards life."
Where are you now?
After completing a Master in Science in Germany and additionally studying for one semester in France, Nicole is now fully employed for the Scottish Company 'PEAK Scientific' as territory manager in Northern Germany.
"I love how my job allows me to make use of my chemistry background whilst as the same time giving me the opportunity to speak to a variety of people, using the various languages I speak and benefitting from my international experiences."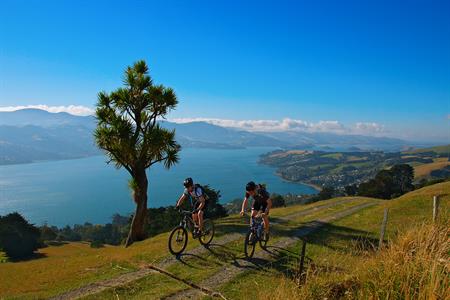 Advice to those thinking of coming here?
"There really is no other place that compares to New Zealand, and Dunedin is particularly gorgeous.  If you love natural beauty, sports and everything else the South Island offers, this is your best choice, it is also a very safe place in the world.  My years at Otago feel like a key stepping stone in my journey towards having a very strong international mind-set, a curiosity for foreign culture and a high level of tolerance towards others."
Nicky Richardson is an International Marketing Coordinator at the University of Otago. With degrees in music and marketing, she is a recent graduate of Otago herself – she loves Otago so much she ended up getting a job here!