So, you're thinking of being brave, adventurous and independent and leaving your home country to come and study at the University of Otago?  We love to see all the new and returning faces of our international students, and we also like to think that we can answer a few of the many questions you may have before you get on board that plane and take a leap of faith to come to our beautiful little corner of the world.  So today's blog focuses on where you will live when you come here, we've got a few options to offer accommodation wise – it all depends on what kind of living experience you are looking for, so here we go!
University Flats (Uni Flats)
Uni Flats is probably our most popular option for international students.  Before I go any further I think a little translation of kiwi is necessary, a flat in New Zealand is actually accommodation, often a house like the one pictured above, which is shared with others.  These flats are very close to campus so you will be right in the heart of student life.  Each flatmate has their own bedroom with kitchen, bathroom, laundry and living areas as shared spaces.  So you're living pretty independently, but you're not alone.
Any full time international student who is coming to Otago for one or two semesters can apply to live in a Uni Flat.  Up to six international students live in a co-ed flat, accompanied by one or two kiwi hosts.  A kiwi host is a New Zealand student, who will help you settle in to your new environment and this is one of the best ways to assimilate into a culture – by hanging out with the locals!  These flats are extremely popular and are managed by the University, are autonomous but offer a supportive and pastoral care service, have plenty of recreational and social activities – so if you're thinking of coming to Otago, make sure you apply as soon as possible.
Residential Colleges
If you like the idea of having your breakfast, lunch and dinner prepared for you (sounds good to me), and enjoy meeting and living with lots of people, perhaps one of our residential colleges is what you need?  We have 15 residential colleges at Otago that accommodate 3,500 students and plans are afoot to build more!  There are so many different options, if you like the idea of a traditional, historic and architecturally impressive college, look no further than the castle like Knox College (pictured above) or Selwyn College.
Or if you want to be right in the heart of campus St Margaret's College is one to note, or take a look at the view from Unicol (University College) in the photo above – Unicol is our largest and possibly liveliest college.  We also understand that post-graduate students may also like the care provided by a college, but aren't quite as interested in the social aspect so we have a designated post-graduate college – Abbey College.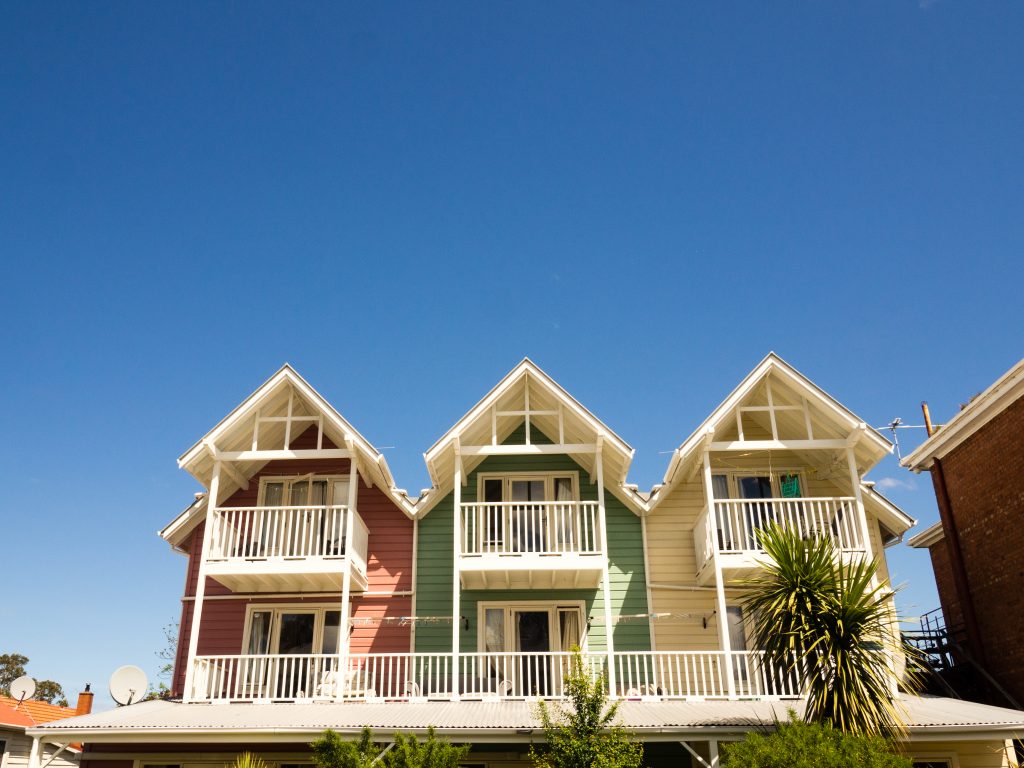 Private, Short Term or Temporary Accommodation
If for whatever reason you're not interested in flatting, or living in a college, or you're just wanting to find private accommodation, or accommodation for a short time or you have any queries our international accommodation adviser from the University of Otago Accommodation Centre can offer advice – international.accommodation@otago.ac.nz.
Dunedin flats in general require a particular mention here, recently Sarah Gallagher, of the Dunedin Flat Names Project, and Dr Ian Chapman, Senior Lecturer in Performing Arts at the University of Otago, have collaborated together to create a visually appealing and witty book entitled 'Scarfie Flats of Dunedin' featuring a selection of well known and lesser known named flats – yes, students have named their flats.
And remember If past domestic and international student's testimonials are anything to go by, the time you spend at Otago, outside of classes and laboratories will no doubt lead you to new experiences, opportunities, friendships and memories that will stay with you for your lifetime.  Many alumni lament and say……oh, those were the days……take me back to Otago……!
Nicky Richardson is an International Marketing Coordinator at the University of Otago. With degrees in music and marketing, she is a recent graduate of Otago herself – she loves Otago so much she ended up getting a job here!