Tell me a little about your way to Otago – Why did you choose to study in Dunedin?
My Dad is a Kiwi and my Mum is from the UK. I completed my undergraduate study in the UK, and as a dual citizen I had the opportunity to pursue graduate study in New Zealand. Otago had the perfect course that I was looking for – the Master of Science Communication. I had never been to Dunedin before but I had family members who had gone through Otago and had an amazing time. I had heard good things, and so it was not a tough decision to study here.
How long have you been a Kiwi Host in the Uni Flats and what made you apply to become one?
I have been a KiwiHost for 1 year now. I was excited about the opportunity to connect with people from a variety of cultures and backgrounds. I love meeting people and this is such a lovely way to do that. I like to support people and make them feel comfortable and find a home away from home. I have the unique perspective of being a 'Kiwi' but also share experiences with the international students, so it's a great fit.
What has been your most fun experience of introducing foreigners to Kiwi life?
One of my favourite things is watching international students experience the funny little language differences for the first time, for example words like 'togs' (swimwear) or 'heaps' (lots)… even for the native English speakers. It is fun to compare different slang terminology. It's the same for cultural nuances, like New Zealanders talk a lot… especially small talk. It takes everyone a bit of getting used to. In a good way.
What is a common New Zealand thing newcomers often don't know about or are surprised about?
Something surprising is actually how welcoming New Zealanders are. Most international students know about that or have read about it…  but they are still very surprised about just how friendly Kiwis are. For example, a New Zealander might just invite you into their home after just meeting you, which is very different to the UK or Europe way of doing things. It's seen as a lot more normal here. Kiwis are very warm, even with strangers. One of my flatmates is Swedish, and she was so surprised by the amount of 'small talk' that happens with Kiwis.  It's a friendly thing, but very unusual for some cultures.
I also think international students are surprised by how much is going on in Dunedin for such a small city. If you compare it to large cities in the UK or Europe.. It only has 130,000 people, but there is a huge population of younger people so there is a great energy and vibrancy at all times. 45% of Dunedin residents are under the age of 30. The city functions for and with the students and so it's a great city for young people. There is always a lot to do and it's very accessible and activities are affordable.
What is your favourite place in Dunedin, and on campus?
My favourite place in Dunedin is the Otago Peninsula. I love Sandfly Bay, which has beautiful coastal views and large sand dunes. It's like nothing I've seen before. The drive to get there along the top of the peninsula is just incredible too. It's not something that we see very often- a city that is vibrant and has a lot to do, but also has these amazing, unique natural spaces. In the Dunedin centre I love the botanical gardens right next to campus, and feeding the ducks.
My favourite spot on campus is the Leith river and the green banks by the Clocktower. It doesn't matter what the weather is doing, that space is always very beautiful. There are also lots of little hidden walkways and gardens, shaded by foliage with little benches that are great spots for your lunch break.  You can find tranquil little quiet spots in the middle of a bustling campus. And the Magnolia trees in bloom outside the Clocktower – just gorgeous.
One important part of Uni Flats is the matching system. As I understand, you name some likes and dislikes as part of your application and your host and flatmates are chosen on that basis. Can you give an example where you noticed that specific questions led certain people to live with you and how it shapes your community in the house?
Yes – this is a huge part of why students enjoy the UniFlats. The team takes a lot of care to match people with other international students with similar interests. People are brought together by shared interests in things hiking or skiing, or even cooking and creative activities.
My flat is part of the Sustainability neighbourhood which students can apply to be part of in their UniFlats application. We are focused as a group on living more sustainably – we grow food in a garden, we compost, recycle and strive to be energy efficient. We also have a worm farm and there are bees in the garden as well! This is something that has worked really well for us – we are all coming together with a shared interest in sustainability.  Everyone is on the same wavelength which is great. I've become so interested in gardening, which I never was before. We have a weekly working session in the garden, and a monthly 'hui' meeting where we talk about what we want to do with the Sustainability Neighbourhood moving forward. I love it.
 How free are you in self-governing your flat? What are some of the biggest differences in between the various Uni Flats?
KiwiHosts are not authority figures, rather they are like a local liaison, or a 'first friend' in New Zealand. It's a flatmate who already knows the ropes. In our house, we all contribute and come together for decision making. At the beginning of the semester a Kiwihost might take the lead a bit to provide early support – like showing international students around, where the good supermarkets are, help organise a cleaning roster… which I was more than happy to do of course. I also was the only member of the flat to have a car for a long time, so I initiated a lot of weekend activities while people settled in.  Now we have a tradition in our flat where we always go to the local pub ('The Bog') for the weekly Quiz Night. It's so fun. We are terrible, but it's a great way to spend time together each week.
I have heard there's a tradition in naming the flats. What are some of the names? / What is the name of yours?
This is a tradition for Otago flats in general that has been around since the 80s I think. It has always been a big part of Otago culture and many flats have fun names, e.g 'Buckingham Palace' on Queen Street, or 'The 7eleven' on 711 Cumberland street. UniFlats are more known for the part of campus they own, and are known for being the cleanest and warmest flats on campus!
Which experiences should no foreign exchange student miss out on while they are in New Zealand?
There are just so many things. My must do is definitely to go on a road trip in the South Island and see the lakes, the mountains and all the natural scenery and landscapes that this part of the world has to offer. You can drive 2-3 hours in any direction from the Otago campus and find something spectacular. It's best to see New Zealand by car. There is nowhere else like it.
Also make the most of the local wildlife. I was at the beach recently and just happened to see a penguin, which is completely bizarre to anyone not from New Zealand. I also know someone who recently went to Stuart Island and saw a kiwi bird when they were walking home from the pub. If you get to experience that, it is so so special. New Zealand is so unique in that way and students should make the most of it.
And if you get a chance to visit a marae – that is very special too. Recently the UniFlats group went on a trip to Karitane for a Maori cultural experience and they told me it was so beautiful and authentic. Another special part of New Zealand culture for sure.
At the University – the Clubs and Societies are something I recommend getting involved in. I joined the Kayaking club, and it was a great way to see things and to meet new people. The societies are very social, which I really enjoyed.
And finally, what would you recommend to a German student who is interested in living in the Uni Flats but isn't sure whether it's "for them"?
I would 100% recommend UniFlats over trying to find private accommodation in the city – because this accommodation is designed for international students. The lease structure works well, the flats are warm and well looked after, linen and appliances are provided, and most importantly you are matched with students that share your interests. It's a comfortable option, and is a great way to meet people – other international students and New Zealand students. International students who come to Otago are motivated to make the most of the experience of being in New Zealand. Everyone is very keen to go and do things together. It really is such an important part of the Otago international student experience.
Do you think you will stay friends with your current flatmates?
Absolutely – my Scottish flatmate and I have a road trip planned at the end of the semester. I can't wait.
**This article was originally written and published by Sören Jonsson – College Contact
So, you're thinking of being brave, adventurous and independent and leaving your home country to come and study at the University of Otago?  We love to see all the new and returning faces of our international students, and we also like to think that we can answer a few of the many questions you may have before you get on board that plane and take a leap of faith to come to our beautiful little corner of the world.  So today's blog focuses on where you will live when you come here, we've got a few options to offer accommodation wise – it all depends on what kind of living experience you are looking for, so here we go!
University Flats (Uni Flats)
Uni Flats is probably our most popular option for international students.  Before I go any further I think a little translation of kiwi is necessary, a flat in New Zealand is actually accommodation, often a house like the one pictured above, which is shared with others.  These flats are very close to campus so you will be right in the heart of student life.  Each flatmate has their own bedroom with kitchen, bathroom, laundry and living areas as shared spaces.  So you're living pretty independently, but you're not alone.
Any full time international student who is coming to Otago for one or two semesters can apply to live in a Uni Flat.  Up to six international students live in a co-ed flat, accompanied by one or two kiwi hosts.  A kiwi host is a New Zealand student, who will help you settle in to your new environment and this is one of the best ways to assimilate into a culture – by hanging out with the locals!  These flats are extremely popular and are managed by the University, are autonomous but offer a supportive and pastoral care service, have plenty of recreational and social activities – so if you're thinking of coming to Otago, make sure you apply as soon as possible.
Residential Colleges
If you like the idea of having your breakfast, lunch and dinner prepared for you (sounds good to me), and enjoy meeting and living with lots of people, perhaps one of our residential colleges is what you need?  We have 15 residential colleges at Otago that accommodate 3,500 students and plans are afoot to build more!  There are so many different options, if you like the idea of a traditional, historic and architecturally impressive college, look no further than the castle like Knox College (pictured above) or Selwyn College.
Or if you want to be right in the heart of campus St Margaret's College is one to note, or take a look at the view from Unicol (University College) in the photo above – Unicol is our largest and possibly liveliest college.  We also understand that post-graduate students may also like the care provided by a college, but aren't quite as interested in the social aspect so we have a designated post-graduate college – Abbey College.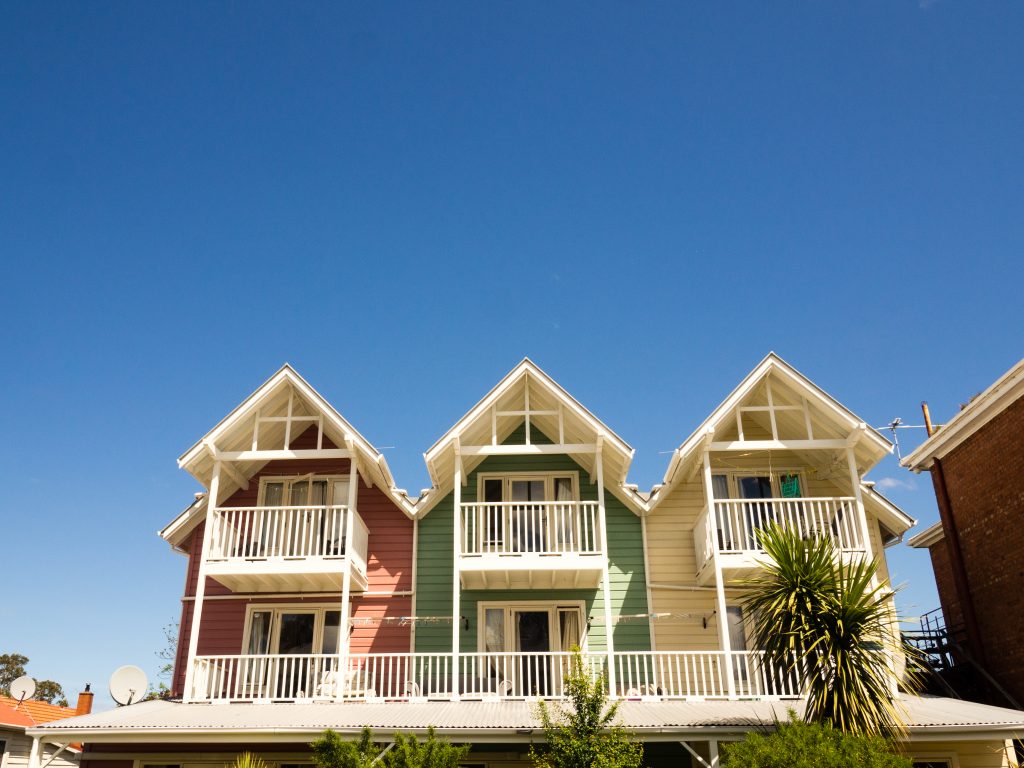 Private, Short Term or Temporary Accommodation
If for whatever reason you're not interested in flatting, or living in a college, or you're just wanting to find private accommodation, or accommodation for a short time or you have any queries our international accommodation adviser from the University of Otago Accommodation Centre can offer advice – international.accommodation@otago.ac.nz.
Dunedin flats in general require a particular mention here, recently Sarah Gallagher, of the Dunedin Flat Names Project, and Dr Ian Chapman, Senior Lecturer in Performing Arts at the University of Otago, have collaborated together to create a visually appealing and witty book entitled 'Scarfie Flats of Dunedin' featuring a selection of well known and lesser known named flats – yes, students have named their flats.
And remember If past domestic and international student's testimonials are anything to go by, the time you spend at Otago, outside of classes and laboratories will no doubt lead you to new experiences, opportunities, friendships and memories that will stay with you for your lifetime.  Many alumni lament and say……oh, those were the days……take me back to Otago……!
Nicky Richardson is an International Marketing Coordinator at the University of Otago. With degrees in music and marketing, she is a recent graduate of Otago herself – she loves Otago so much she ended up getting a job here!