Before her arrival at the University of Otago, Study Abroad student Neve Oettinger never imagined she wouldn't be returning to her home in Minnesota, USA, at the end of her semester in New Zealand. In fact, Neve hadn't initially planned on attending Otago at all, having already applied and paid application fees for another New Zealand university. Yet, in what she describes as a 'miracle,' Neve discovered Otago for the first time when by chance, she decided to look at other options, having only seen her prior choice when previously searching her major.
"One day I randomly looked at my university's study abroad page and typed in New Zealand, then Otago came up and I looked at the pictures of the surrounding area, did more research, and found they offered my papers. So I cancelled my other application and applied to Otago! It's like a miracle now because it's perfect."
Today, as semester one comes to a close, Neve sits before us as a full degree University of Otago student and will remain here next year to graduate. So we sat down with Neve to reflect on her self-labelled 'bold choices' and to hear how her Otago experience has been beautifully shaped by community, friendship, support, nature and connection.
Neve, it is wonderful to have you here! What are you currently studying? 
 "Sociology and I'm majoring in Criminology."
 What inspired you to choose New Zealand as your country of study?
 "A lot of people from the United States go to Europe, and I knew I wanted a unique experience, somewhere with a lot of nature. New Zealand has a lot of nature and is a lot smaller than the United States which is exactly what I wanted."
Have you felt a sense of community since you've been here? Have you fit in easily?
 "Yes, it's actually crazy. First of all [Otago] is a lot smaller than my home university which I really like because at home I always felt lost in the crowd, I didn't know my professors' names and they didn't know mine- we had like 800 people in a lecture. So it's nice here, it almost feels like the size of high-school classes which is nice because I actually have relationships with my lecturers and other students!
I always see familiar faces, I might not know their name, but I see the same people around, which is so different, because you would never see the same person twice where I am from.
Before I came here I was researching Otago on social media and a Kiwi girl called Ruby popped up and she felt like my vibe so I reached out. We have talked ever since then and now it has been over a year since and when I arrived we met right away- now she's like my best friend and I am living with her next year. It's something I felt I really missed back home [people that I clicked with closely]."
Why did you choose the University of Otago? What about our University stood out to you specifically?
"Otago is perfect. I love that it is so close to nature, and that is something that I don't think other places have to the same extent. It's just crazy, there are so many things to do in the South Island even that I have already done and it's all relatively close- especially coming from the United States. 
It surprised me how much everyone loves international students here, as soon as they hear me they want to know where I am from, what my life has been like…it is so cool."
As a Study Abroad student, when you came here, did you feel adequately supported?
"I definitely think so. Teri (Regional Market Manager) was my first form of contact, if I ever needed anything I could ask her. I came here a month early and I travelled so I didn't plan that much, all of my course plans for classes have a section for International Support, and I haven't needed to reach out so I guess that's a good sign! Living in UniFlats as well, my Kiwi host Claire answers all of my questions."
How has your experience been living in a UniFlat so far?
 "I love it. It's awesome. I got really lucky with my friends, I live in a house with four girls including me, the others are from Ireland, Columbia and the UK. It's been great. UniFlat's and the UniFlat Facebook group is basically how I met all of my friends here. 
On the Facebook page, everyone will post about themselves before they come and I even met another girl from Minnesota and we hang out here. At least fifteen friends I've made through the Facebook page, it's not been hard, of course you have to make some effort but that goes for everything!"
"I have the most amazing location. It's nice because UniFlats is spread throughout [the student area] so you're mixed with other students- it's really nice. Even my Kiwi friend Ruby lives six houses down from me by chance!
It is so awesome getting to live by people who are all in the same situation as you, which is something I didn't have at home- it could be very dangerous for girls to live alone in houses."
Have you felt safe here?
"Weirdly safe, so safe. It is so weird being able to walk alone in the dark and not feel scared, which is not quite the case where I am from."
What inspired you to transition to becoming a full degree University of Otago student?
"I knew when I came here and met all my friends, instantly I knew that this is where I was meant to be.
It was a little stressful trying to make the decision but I thought if I am happy here I should follow that, I feel so at home, I knew I was happier here."
 What have been your favourite experiences at Otago so far?
"Meeting all new people. I love meeting new people, I have friends from Hungary, Ireland, the UK, Columbia, Sweden, all these different places. It's cool learning about their cultures- it has just been awesome. It is nice having everyone in the same situation, everyone is looking for friends, everyone wants the most out of their experience.
People are very welcoming and inclusive, including my friends from New Zealand (…) they love to take me out and show me new things."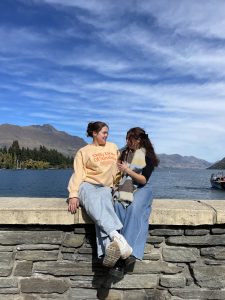 A huge drawcard for international students here is the accessibility of study and travel. Have you taken advantage of this?
"Before school started I was here for a month, but I didn't do much travel. We went to St Clair beach a tonne while I was settling in, we went to the Peninsula and did the Penguin experience, it was so fun. 
Over mid-sem break myself and my flatmate took a road trip, we rented a car from the airport and we just figured it out. We went to Mount Cook, which is beautiful, I love Mount Cook. Then from there to Lake Tekapo, Kaikōura, Nelson, Akaroa and then back to Dunedin (…) it was so great. I think my favourite was Mount Cook and I can't wait to go back to Lake Tekapo in the summer. We went sunset Kayaking in Nelson and we saw so many seals, they swam right by us!
 I've been to Queenstown twice (…) we took the bus which is really nice, the bus will take you so many places here, like Queenstown and back which is so easy, way easier than renting a car, it's so awesome. We did a lake hike and there is a bead shop [in Queenstown] where we all made bracelets and earrings, it helped us all get to know each other and it was so wholesome."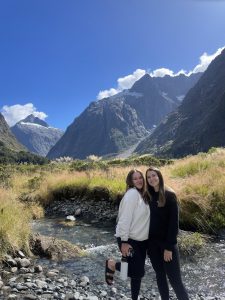 What are the stand-out highlights of the University of Otago?
"The community, the nature, friendships, connection with my lecturers and the international support. Honestly, the accessibility to travel is so nice (…) it is so easy because everyone does it, people text all the time in the UniFlat page with extra spots in their cars for road trips.
This summer I am going to Mount Manganui, then for my 21st we are visiting Wellington and I have plans to go to Christchurch next semester. There's a lot to do!"
 What would you say to future students considering a Study Abroad experience at the University of Otago? 
"Definitely do it. I've had so many people reaching out to me on Instagram wanting to come here! It is such a hidden gem. When people think of New Zealand they think of Auckland or the North Island, but the South Island just has so many things to see. I think it's awesome, it's a great sense of community."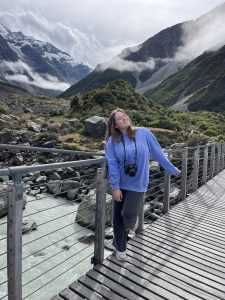 You're a Kiwi girl at heart it seems…
"Exactly yeah, I am meant to be here!"
 Do you have a taste for adventure? Ready to try something new? Study Abroad at the University of Otago and like Neve, experience a world-class education while travelling the country. Have an authentic "Kiwi" student experience living amongst the locals in our University-owned UniFlats, and receive excellent support from our International Support Team. 
Start your adventure today!
Check out our Study Abroad options here.