Growing up in an academic family, in Yangon, Myanmar, with an emphatic value placed on education, my parents always wanted to give me an education abroad.
As I had never been away from home and as parents they wanted somewhere their child would be safe and still be offered the quality education they were after, it is not surprising New Zealand was at the top of their list.
With an interest in biomedical sciences from an early age, together with my parents, I made the decision to study at the University of Otago, New Zealand's first university with excellence in medical and biomedical research and teaching.
I started my affiliation with the University of Otago in 2001, firstly completing a foundation studies course before moving onto studying genetics. I received my Bachelor of Science Degree, with first class honours in Genetics in 2005, after which I worked as a research assistant both at the University of Otago and Massey University in order to have the skills to pursue my PhD in 2010. I was awarded a PhD in Microbiology in 2013.
Immediately after my BSc (Hons) graduation and my PhD graduation, I started my employment at the University of Otago. I am currently leading an international research programme combating tuberculosis (TB) in New Zealand and my home country Myanmar through a prestigious Sir Charles Hercus Research Fellowship awarded to me by the New Zealand Health Research Council.
How did you find the learning/teaching environment at Otago?  Do you think it gave you the skills and knowledge to enable you to find employment?
I would say that my experience at Otago gave me a chance to discover myself and my purpose in life. I have always wanted to make a difference and to contribute back to the community. Therefore, I selected the health sector as my way of doing so, particularly TB, which daily claims 5,000 lives mainly from socioeconomically disadvantaged communities.
What was your experience with your lecturers/supervisors like?  Were they approachable and helpful?
Lecturers and teaching fellows were so helpful and supportive. Some of them are my longstanding mentors, and I can proudly call them my lifetime friends.
How have you found the 'culture' of the students, staff, and people that work at the University of Otago?
The culture of the students and staff at the University is that we courageously keep on tackling big challenges, which is the reflection of the University's motto "Dare to Be Wise".
How would you describe the University of Otago to somebody who was thinking of studying as an international student at Otago?
Truly home away from home – when I first arrived here I felt homesickness. But people here at the University and in Dunedin are amicable  and welcoming, so Dunedin quickly became my home away from home.
Did Otago met your expectations?
Exceeded.
How does it feel to be an Otago alumni?
I am a proud scarfie and a true University of Otago product (from Foundation Studies to PhD and now an employee of the University).
What is the best memory you have from your time at the University of Otago?
Unforgettable student experience – some of my best memories include my time at Cumberland College, a residential college I lived in first as a student and later as a residential assistant supporting other students. I am now a College Fellow at Cumberland, providing mentor ship to students within and beyond their academic life.
Nicky Richardson is an International Marketing Coordinator at the University of Otago. With degrees in music and marketing, both from Otago, she is passionate about education, and the places it can take you.
E-learning company GoSkills' co-founder Bhavneet Chahal says her experiences at the University of Otago kick-started a career helping others learn about IT and realise their potential.
Bhavneet completed a Bachelor of Applied Science with first-class honours, majoring in molecular biology in 2006. She later gained a Master of Entrepreneurship.
While working for Groupon in Sydney, Bhavneet realised that online courses were a growth area but that they were not always providing the quality content required by professionals looking to expand their skills.
Since being founded in New Zealand in 2013 – with input from Otago Professor Paul Hansen – more than 104,000 users have signed up to access GoSkills' 50+ online learning courses.
Bhavneet backs up her advice for young women wanting to start their own business with practical assistance; she proudly supports two $2,000 scholarships each year. The title of these awards leaves little room for misinterpretation: they are called the Scholarship for Women Who Want to be the Boss.
  How did Otago help to shape your life and career success?
I studied Applied Science as an undergraduate and, while I always enjoyed science, I couldn't see myself pursuing a career as a researcher or scientist.
During the last year of that degree I found a student business competition on campus called Kickstart. I entered the competition with a business idea and I was a winner in the first round and a finalist in the competition's second round.
This opened up my eyes to a totally different world of business and entrepreneurship. I then completed a Master of Entrepreneurship to learn practical skills to start and grow a business.
This degree was right up my alley, I learned the fundamentals of business and felt prepared to one day start my own company.
  Highlights and interesting memories of your university days?
Definitely the residential colleges; when I first arrived at Otago I stayed at St Margaret's College. I later worked as a Residential Assistant (RA) at Cumberland College, which was known at the time as being a bit of a party Hall. It was then that I realised what being an undergraduate at Otago was truly like! I was glad I started off at a relatively tame place and could ease into uni life. Some of my best friends today are people I met at both St Margaret's and Cumberland!
  Recollections of favourite or standout lecturers?
I had two standout lecturers. The first was Richard Higham – he was about 79 when I took his class during the Master of Entrepreneurship. I was inspired by his sharp intellect, boundless energy and superior Excel spreadsheet skills! He was able to bring our class together and teach us how to grow a business in a fun and dynamic environment.
The other standout lecture is Professor Paul Hansen – an economics lecturer and part-time surfer. I was drawn to Paul's energy and passion for his craft – economics and business. It's no wonder he's won student popularity awards and it's also no coincidence that he's now my business partner at GoSkills.
  What are your career or personal highlights?
Starting a company from scratch, pulling together people and resources and growing it into a global business. Our team can work from anywhere in the world and we sell to customers the world over. Building a business that pushes the boundaries of being in a global and connected world has been extremely fulfilling.
  What are your future goals?
Keep building businesses, help others build and grow businesses, and world peace – naturally!
  What advice do you have for current students or students considering studying at Otago?
Make the most of every opportunity. There are so many facets to university life – try them all. Join random clubs, try sports you might not have ever considered, enjoy the unexpected friendships you will form along the way. It's only when you try loads of different things that you discover what you truly like and figure out who you are. University is a time to try things in a safe environment and set yourself up for a future that most aligns to who you are and where you want to be.
Many thanks to the team at the University of Otago Alumni & Friends for providing the content for this blog!
Nicky Richardson is an International Marketing Coordinator at the University of Otago. With degrees in music and marketing, both from Otago, she is passionate about education, and the places it can take you.
So, you're thinking of being brave, adventurous and independent and leaving your home country to come and study at the University of Otago?  We love to see all the new and returning faces of our international students, and we also like to think that we can answer a few of the many questions you may have before you get on board that plane and take a leap of faith to come to our beautiful little corner of the world.  So today's blog focuses on where you will live when you come here, we've got a few options to offer accommodation wise – it all depends on what kind of living experience you are looking for, so here we go!
University Flats (Uni Flats)
Uni Flats is probably our most popular option for international students.  Before I go any further I think a little translation of kiwi is necessary, a flat in New Zealand is actually accommodation, often a house like the one pictured above, which is shared with others.  These flats are very close to campus so you will be right in the heart of student life.  Each flatmate has their own bedroom with kitchen, bathroom, laundry and living areas as shared spaces.  So you're living pretty independently, but you're not alone.
Any full time international student who is coming to Otago for one or two semesters can apply to live in a Uni Flat.  Up to six international students live in a co-ed flat, accompanied by one or two kiwi hosts.  A kiwi host is a New Zealand student, who will help you settle in to your new environment and this is one of the best ways to assimilate into a culture – by hanging out with the locals!  These flats are extremely popular and are managed by the University, are autonomous but offer a supportive and pastoral care service, have plenty of recreational and social activities – so if you're thinking of coming to Otago, make sure you apply as soon as possible.
Residential Colleges
If you like the idea of having your breakfast, lunch and dinner prepared for you (sounds good to me), and enjoy meeting and living with lots of people, perhaps one of our residential colleges is what you need?  We have 15 residential colleges at Otago that accommodate 3,500 students and plans are afoot to build more!  There are so many different options, if you like the idea of a traditional, historic and architecturally impressive college, look no further than the castle like Knox College (pictured above) or Selwyn College.
Or if you want to be right in the heart of campus St Margaret's College is one to note, or take a look at the view from Unicol (University College) in the photo above – Unicol is our largest and possibly liveliest college.  We also understand that post-graduate students may also like the care provided by a college, but aren't quite as interested in the social aspect so we have a designated post-graduate college – Abbey College.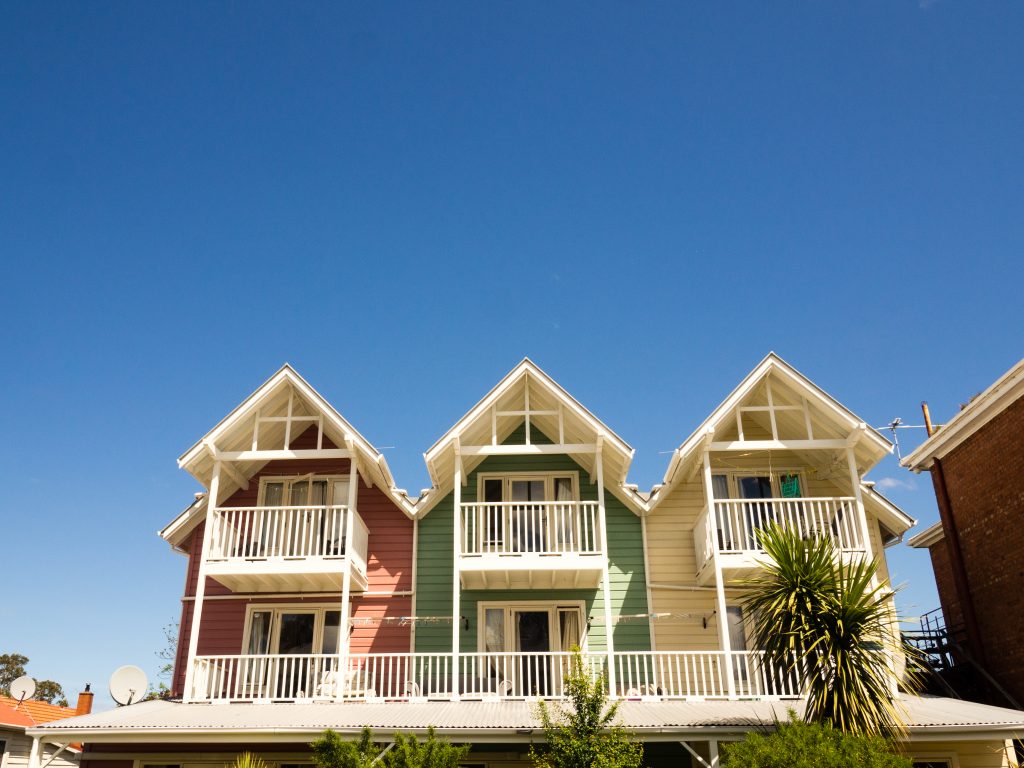 Private, Short Term or Temporary Accommodation
If for whatever reason you're not interested in flatting, or living in a college, or you're just wanting to find private accommodation, or accommodation for a short time or you have any queries our international accommodation adviser from the University of Otago Accommodation Centre can offer advice – international.accommodation@otago.ac.nz.
Dunedin flats in general require a particular mention here, recently Sarah Gallagher, of the Dunedin Flat Names Project, and Dr Ian Chapman, Senior Lecturer in Performing Arts at the University of Otago, have collaborated together to create a visually appealing and witty book entitled 'Scarfie Flats of Dunedin' featuring a selection of well known and lesser known named flats – yes, students have named their flats.
And remember If past domestic and international student's testimonials are anything to go by, the time you spend at Otago, outside of classes and laboratories will no doubt lead you to new experiences, opportunities, friendships and memories that will stay with you for your lifetime.  Many alumni lament and say……oh, those were the days……take me back to Otago……!
Nicky Richardson is an International Marketing Coordinator at the University of Otago. With degrees in music and marketing, she is a recent graduate of Otago herself – she loves Otago so much she ended up getting a job here!