Dunedin's population has surged past 130,000 people for the first time according to Stats NZ.  So why are people choosing to come and live in this city on the east coast of New Zealand's South Island?  Dunedin has in the past, and still does have according to some media outlets the reputation of being cold, wet and miserable.  But if you look at the statistics from NIWA Dunedin's mean annual rainfall is 812 millimetres, compared to Auckland's 1240 millimetres so that reputation isn't really warranted is it?  So what makes Dunedin such a great place to live, study and work in?  Here are our top 5 USP's (unique selling points) for our little city!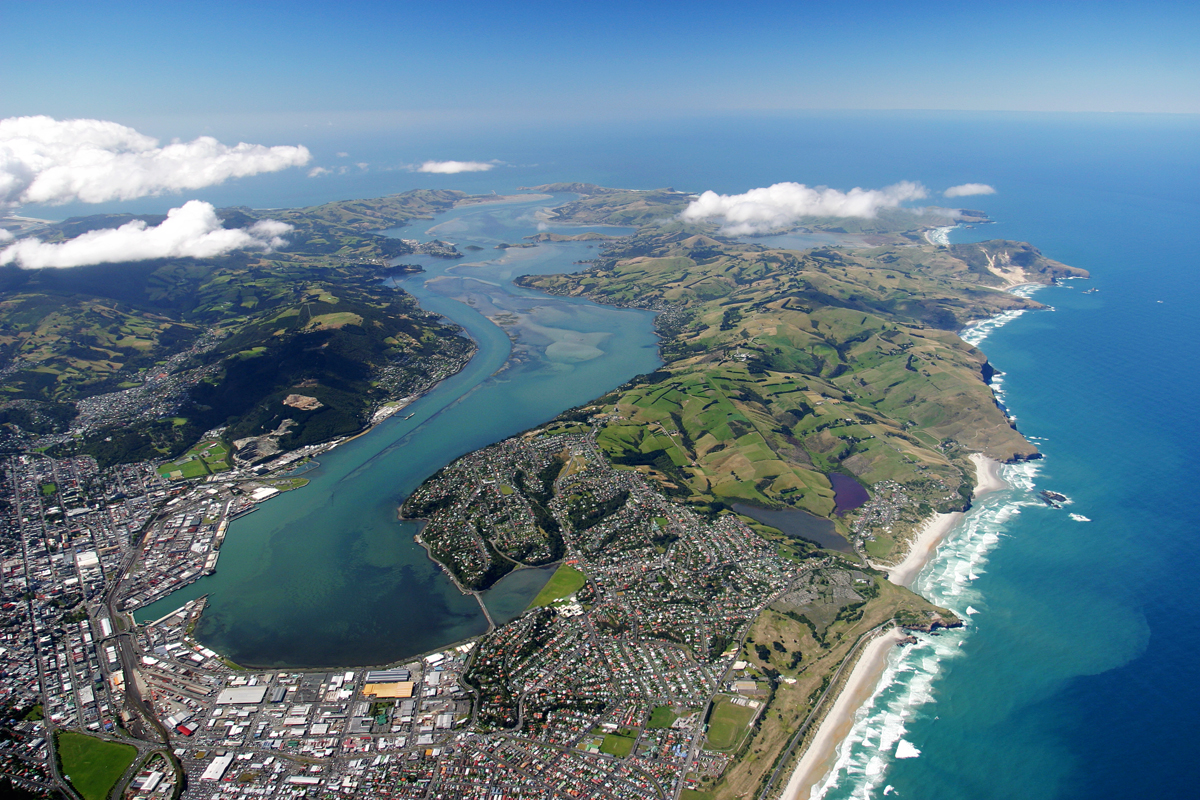 1.  It's so pretty. Yes, it really is as pretty as the pictures!  And as recent as last month Dunedin was named the most beautiful city in NZ in the Keep New Zealand Beautiful Awards. The early Scottish settlers that mapped out the city's footprint made sure that Dunedin had an array of beautiful parks, and areas of greenery throughout.  An area known as the 'Town Belt' is literally a green belt of native and exotic trees that runs through the city, and even when you're in the city just look above the buildings and Dunedin is surrounded by green hills.  Plus, if you want to go a little off road, a 10-minute drive from the city centre and you will find yourself literally feeling like you are completely away from all forms of urban life.  Mountain biking and trail walking and running tracks are all right on your doorstep.
2.  Dunedin is a quirky, artistic and entrepreneurial city.  We have a street art trail, where 30+ walls have been adorned with art from visiting artists from around the world and New Zealand. Dunedin is home to artists, musicians, internationally recognised fashion designers, an annual fashion festival week, and writers, in fact Dunedin was the first city in New Zealand to initiate a writer's fellowship, and is now a UNESCO designated City of Literature where writers, books and literature thrive. Dunedin is also gaining a reputation as the perfect place for start-up businesses to thrive and collaborate.   And in the deep of winter Dunedin celebrates as only Dunedin can by lighting up the city with a mid-winter carnival complete with fanciful, ethereal and elaborate costumes and lanterns.
3.  The University of Otago. Dunedin is a University City which adds to its appeal in regards to the research, literature, culture and people that are attracted to come here to study, research and teach.  Otago University is New Zealand's first University and has a reputation for both academic excellence matched with an extraordinary lifestyle and balance.
4. Weekend travelling.  Getaway in the weekends to some of the most untouched, natural scenery in the world and a range of outdoor pursuits. Dunedin is the gateway to some of the most ridiculously beautiful scenery you are likely to encounter.  Fiordland National Park, Central Otago, including Queenstown, Wanaka and Arrowtown, or travel a couple of hours south of Dunedin and you enter the dramatic and wild Catlin's area.
5. Dunedin is NZ's wildlife capital. Yes, I know, that is a very big call to make, but we aren't the only ones saying it.  Sir David Attenborough from the BBC states: "Otago Peninsula and Taiaroa Head is a unique and very special place. It is a place that every visitor to Dunedin should see." Dunedin is situated around a natural harbour and adjacent peninsula and it really is the jewel in our crown.  We have the only mainland breeding grounds for Royal Albatross in the world, NZ fur seals, sea-lions, rare and endangered Yellow Eyed Penguins also choose to call the Otago Peninsula home.  And because Dunedin people are the kind of people who care about the lives of our feathered and furry friends, we have a wildlife hospital.  On the other side of the Peninsula is Orokonui Ecosanctuary a local initiative that saw a dream of creating a predator free area of native forest become a reality.  Orokonui now houses some of NZ's most precious living taonga (treasures) and is contributing to the conservation and regeneration of our endemic birds and reptiles.
Dunedin is an interesting little city with a warm heart and welcoming inhabitants. Almost anyone can find their little piece of happiness here. It it is also a place with mysterious secrets than only locals know…..but thats a story for another day.
Nicky Richardson is an International Marketing Coordinator at the University of Otago. With degrees in music and marketing, she is a recent graduate of Otago herself – she loves Otago so much she ended up getting a job here!