The Centre for Research on Colonial Culture is supporting a new initiative concerned with globalising local histories through the Global Dunedin project. We outlined this new initiative briefly in a post last month, but you can read about it in more detail in this news item from the University of Otago. Tony Ballantyne, Director of CRoCC and who has taken the lead on developing Global Dunedin, says the project is "the first of its kind for the University and for Dunedin. We think it is an important undertaking because our city is packed with really compelling and interesting stories. And sharing those stories is one way in which we might help strengthen the bonds of community". We hope you'll take an interest in Global Dunedin by following the blog and attending the associated public lectures, which are held on the second Sunday of each month at Toitu Otago Settlers Museum.
March 23 is Otago Anniversary Day, but it also happens to be the occasion for the launch of a new initiative from the Centre for Research on Colonial Culture: Global Dunedin. Have a look at Global Dunedin's Blog, which is designed to serve as a forum for discussing Dunedin's historical development and its changing economy, social life, and cultural pattern. The project will showcase how the city has changed over time and the ways in which its pasts have shaped its current and future prospects. The blog – together with an associated Facebook page and Twitter account (@GlobalDunedin) – will disseminate reflections on the city's history and life here now.
In addition to a social media presence, the Global Dunedin project team are also running a public lecture series in conjunction with Toitū Otago Settlers Museum: in these Sunday afternoon talks, leading local researchers and thinkers will reflect on different aspects of Dunedin's past and present.
Follow us and join in the conversations!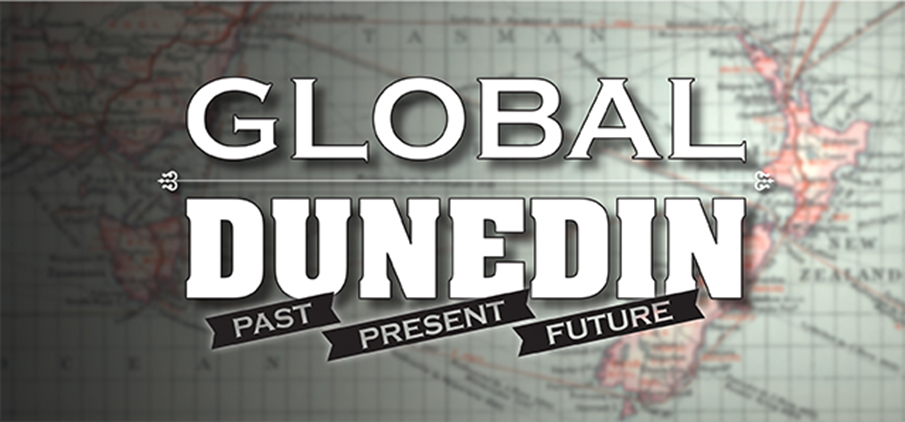 Seán Brosnahan, curator at Toitū Otago Settlers Museum, will be speaking about 'Becoming Toitū: telling the Otago story in a museum setting'. His lecture takes place today, 10 April, at 5:30pm in Moot Court, Richardson Building, University of Otago. All welcome!