Setting up and Logging into Role-based Zoom Accounts
Zoom meetings should ideally be created under your personal Zoom account however, in specific scenarios, using a role-based account may be the preferred option.
If you believe this might be the case for your purpose, please contact eConferencing (econferencing@otago.ac.nz) to discuss in more detail.
Logging into Zoom with a role-based account will differ from logging into Zoom with your Staff account. There are two ways.
Via the Zoom Application
Run the Zoom Application
Select 'Sign In'
Enter the email address and password for the role based account, click 'Sign In' Do not use 'Sign In with SSO'
From Within A Meeting
Enter the meeting room and click the 'Participants' icon.
Then click 'Sign In as Host' from pop up window
Again click 'Sign In as Host' from the pop up window.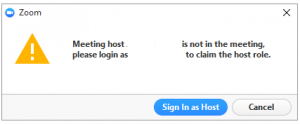 Enter the email address and password for the role based account, click 'Sign In'